Transport System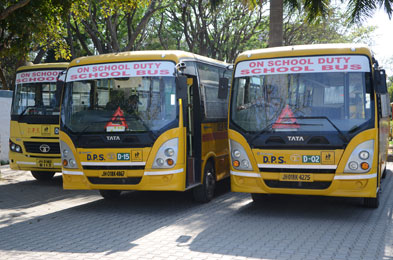 Students can avail the school transport subject to the availability of seats. The routes and stops of the school buses have been prepared keeping in view the convenience and safety of all students. The school will not entertain any request for changes of bus-stops and bus-routes to suit an individual's convenience. Parents should consult the school transport in-charge for necessary details regarding bus-stops and bus routes. Bus fee will be charged for twelve months in an academic year. The charges per pupil per month is given in the fee schedule available in the school office.
Bus rules
Students using the school bus must be at their bus stop at least five minutes prior to the arrival time of the bus. Buses will not wait for the latecomers. It is mandatory for all students availing bus to carry their bus ID card with them..
Students should stay away from the main road until the bus arrives and should not rush towards the entry door of the bus till it has come to a complete halt.
All students must occupy vacant seats immediately after boarding their buses.
Drivers are authorized to stop buses only at the designated stops, unless directed otherwise by the bus in-charge.
No student should move around or put any part of his/her body out of the bus.
Food items or trash must not be discarded inside the bus or thrown out of the bus. Students are not allowed to eat in the bus.
Students will be held responsible for any damage to buses caused by negligence or vandalism. Courteous behaviour is expected from students at all times and unruly behaviour is strictly prohibited. Students who resort to vandalism will be debarred from bus facility.
Bus teachers are responsible for maintaining discipline inside the bus. Serious offences inside the bus should be reported to the Principal immediately.
Parents are requested not to enter into an argument with the bus driver and conductor. In case of necessity the bus teacher or school authority can be contacted.