In the abode of knowledge, we groom our students to become future leaders. We inspire our students to dream, to dream big. This inspiration comes from being in the guidance of some recognized leaders themselves. Led by our Principal, Dr. Ram Singh who has been conferred with several prestigious awards till date, our school, our students and teachers have also been recognized for their excellence in not just academics but art, culture and other arenas.
Best International Principal Award
Dr. Ram Singh, the visionary educationist and distinguished Principal of DPS Ranchi has been awarded the esteemed "Best International Principal Award 2021 - 2022" by the prestigious Science Olympiad Foundation (SOF).
He is among those 20 PRINCIPALS who earned this prestigious award ACROSS THE GLOBE. &
The ONLY PRINCIPAL from the Eastern Region to get it.
CBSE Teachers Award for Dr. Ram Singh Principal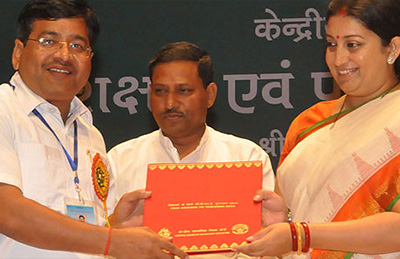 Oscar Wilde, had once said that "The aim of life is self-development to realize one's nature perfectly." Over the years, as a teacher
Dr. Ram Singh has enriched students with the values of love, kindness and patience to enable them to grow into strong trees which bear fruits. It has been his endeavour to help children, fill their life with a halo of positivity. His dedicated service to the society has been rewarded by the CBSE Teacher's Award 2015. This award was received by him in a grand ceremony in New Delhi on 03-09-2015 from Smt. Smiriti Zubin Irani, Honourable Minister of Human Resource Development, Govt. of India. He has been given a Certificate of Commendation, Cash Award of Rs 50000/- and a Shawl. After receiving the Award he said that this has been possible owing to the trust reposed on him by the parents who have entrusted him with their children to be moulded into worthy citizens of tomorrow. He has very humbly dedicated the award to his dear students for their constant love and respect.
Dr. Ram Singh who is known for his simplicity, integrity and clear thinking has been constantly contributing selflessly in the field of education for a considerable period of time. It is this sincerity of his that has fetched him many more laurels like:
"Where winning is a habit
Where achievement knock your doors,
From that land of legends
Does, our patron, soar!"
Yet another Award for Principal DPS
Dr. Ram Singh Principal Delhi Public School, Ranchi has received the award of "The Best State Principal– Jharkhand Zone" for the year 2015-16 by SOF (Science Olympiad Foundation). It needs to be mentioned here that Dr. Ram Singh a first rate academician has many more prestigious awards in his booty and it is this aspect of his that people look up to him as a leader par excellence and administrator. To mention a few he has received the CBSE Teachers Award from the Union HRD Minister, and award for innovation in the field of education by ASSOCHAM.
He has steered the institution with dedication and is a role model to be emulated. It is under his guidance and visionary stewardship that the school has been successful in making a permanent place for itself. The brilliant results of the school in SSE and AISSCE are a living testimony of his potentials.
This coveted award has been bestowed upon him for his far reaching contribution to the cause of education and his visionary leadership in motivating the students of DPS, Ranchi to perform exceptionally well in the SOF Olympiad exam conducted during the academic year 2015-16. He believes in motivating the young learners constantly to excel in all fields.
International School Award (ISA) by British Council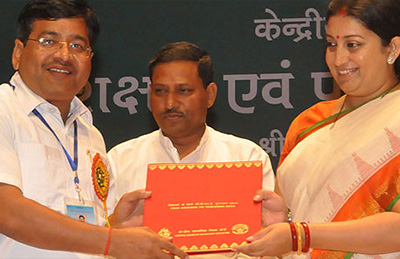 Delhi Public School Ranchi was conferred with the prestigious International School Award (ISA) by British Council in the month of November at Chennai.
Dr. Ram Singh, Principal, DPS Ranchi expressed his elation on receiving this award and said that it was really a matter of immense pride and honour to receive this prestigious award. It was under his guidance that the teachers were able to take up this project so that children could get the benefit of exchange programmes. As a token of appreciation all the team members of this International Project were awarded with a certificate of appreciation by the head of the institution.
It is worth mentioning here that Dr Ram Singh has most humbly given the entire credit to his teachers. He genuinely feels that in today's world global exposure is very much need of the hour and for this he is ever ready to provide the best facility possible in order to groom his students and teachers to be at par with the International counterparts.